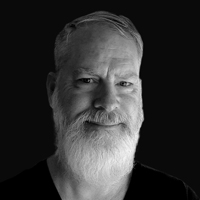 Ron King founded RMK Films in 2018 to serve as a home for independent cinema. He endeavors to provide a supportive environment where artists both in front of and behind the camera can do their best work. His short film Visitor entered the film festival circuit in 2020. A feature version of Visitor is now in development. Ron's short comedy Rose is a Rose is a Rose, won the Silver Eddy – Professional Short at the Cedar Rapids Independent Film Festival. Ron is developing Ludd Life, a comedy series for streaming with Rose collaborator Daniel Hagen. Ron is also collaborating with writer/director Jessica Janos on Fallout, a feature length drama that includes footage from a 16 mm black and white short Ron created with Stephen Plumlee in 1984 in New York City. Ron is also collaborating with author Marc Wortman on a multi-part limited television series (narrative), The Top Hats, based on Marc's book, The Millionaires' Unit.
Since the early 1970's Ron has performed on stages in New York, Los Angeles, San Francisco, Seattle, London, Paris, and throughout the Netherlands. He has made many appearances in commercials, film & TV where his biggest claim to fame may be the portrayal of the first human to have contact with a Klingon on the TV premiere of Star Trek: Enterprise.
During his high school years, Ron trained at the American Conservatory Theater – Young Conservatory, performing in numerous plays in the Bay Area. Ron received a BFA (honors) from Carnegie-Mellon University in 1980. He is a member of Film Independent, The Digital Cinema Society and the Screen Actors Guild. He volunteered for several years with Boy Scouts of America as a leader and was the founding Crew Advisor for advanced scouts with Troop 50 in West LA. He has lead hundreds of miles of hikes through the High Sierra and Grand Canyon National Park. Ron has volunteered in hospice care, urban homesteading, and leadership positions in a community renters' association. Ron participated in Lifecycle 4, an AIDS charity ride from San Francisco to Los Angeles and is a blood donor to the American Red Cross. Ron lives in Culver City with his wife in their empty nest. In June 2019, Ron was overjoyed to become a grandfather.
---
ADVISORS
---